Two new Georgian College student campus residences should be up and ready for the fall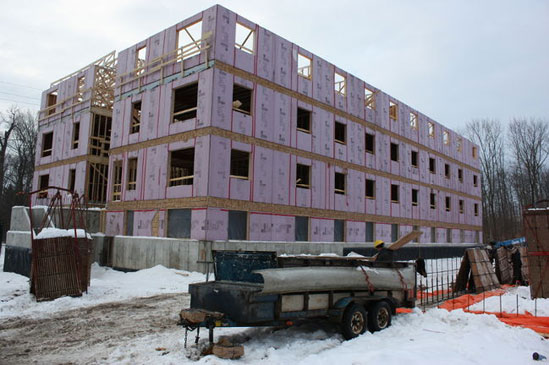 Crews from Campus Living Centre work on the foundation of the second residence at Georgian College's Orillia campus, while the first building begins to take shape. KRISTEN SMITH – THE PACKET & TIMES
ORILLIA – Construction of Georgian College's Orillia campus residences is ahead of schedule.
Following a delay this fall after an at-risk tree species was found on the northeast corner of the Memorial Avenue property, work on two of four 28,000-square-foot buildings is not only back on track, but moving along more quickly than anticipated, according to the college's vice-president of administration, Brandon Lander.
Crews from Campus Living Centre work on the foundation of the second residence at Georgian College's Orillia campus, while the first building begins to take shape. KRISTEN SMITH – THE PACKET & TIMES NEWS LOCAL
"There's little doubt we'll be ready at this point for the fall. We're doing very well. It's going quicker than we expected," said Lander.
One of the 16-unit buildings is taking shape and crews from Campus Living Centres (CLC) are working on the foundation of the second 64-bed residence, which will allow 128 students to choose on-campus housing for the 2013-14 school year. CLC will also manage the residences, and already owns and operates ones at the school's Barrie and Owen Sound campuses.
Lander said construction of the third and fourth buildings is likely to start next year, but depends on demand.
"We have almost no doubt that they will be full and we expect there will be adequate demand to proceed!" Lander said, adding the college has seen positive responses at open houses so far.
With room for 128 students to move in this September, Orillia Housing Resource Centre coordinator Nadine Ritchie said the effect on the Orillia rental market could go one of two ways.
"It is going to free up some rental stock, but on the flipside, too, a lot of the landlords who are renting to students are very student-driven; that's the type of clients that they want, that's the type of tenants they want," said Ritchie.
She said students struggling to find places or Lakehead students might end up in the unit.
Lander doesn't think it will make a huge dent on the rental market.
He noted anecdotal evidence suggests prospective students have chosen to go elsewhere because there wasn't on-campus housing in Orillia.
"We're hopeful that it would pick up some of those students who wouldn't have come anyway. That way, it may not have a very big effect on the rental market in Orillia," said Lander.
"We can't conceive of anything at this point that would cause us to not have them both ready for the fall," he said.
—
By Kristen Smith, Orillia Packet & Times
Friday, January 11, 2013 9:40:23 EST PM