Cambrian College Residence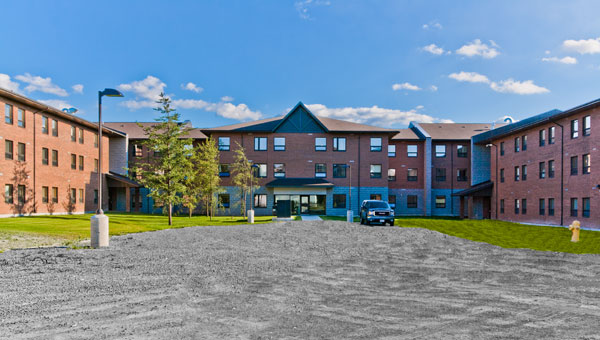 If you are a student, please click here.
Cambrian College Student Housing is located directly on the Barrydown Campus of Cambrian College in Sudbury Ontario.  The Residence holds up to 677 students in 2 styles of Residence, Townhouse and Suite style.
Townhouse style accommodations hold 300 students and consist of two-storey, self-sufficient units in two village clusters. Townhouses provide a kitchen equipped with a fridge, stove and microwave. Also, provided is a living room with basic furnishings.  There are six individual bedrooms.  Each bedroom has a single bed, a built-in wardrobe, closet, study desk and chair.  Three bathrooms are located within the Townhouse.
Suite style accommodations hold 377 students in a three storey residences.  Each suite consists of 2 separate bedrooms with a double bed, a built-in wardrobe, closet and a study desk. Located in the suite is a kitchenette equipped with a microwave, refrigerator and three-piece washroom.
Cambrian College Student Housing

PROJECT LOCATION
1390 Barrydowne Road
Sudbury Ontario
P3A 6B9

DATE OF COMPLETION
Townhouses – 1992
Dorm A – 2006
Dorm B – 2006
Dorm C – January 2010

PROJECT TYPE / USE
Student Residence
PROJECT SIZE
677 Beds in a combination
of two-bedroom suites and townhouses

CLIENT CONTACT / REFERENCE
Kim Lair
General Manager Ancillary Business Operations
705-566-8101 x6802
kim.lair@cambriancollege.ca