by Jacob Touchette
Shield Staff » Read the article HERE.

Cambrian College's Board of Governors has approved the sale of the Barrydowne Campus residences for $24 million.
The decision came at a meeting on Jan. 26.
The sale is to be made to Campus Living Centres, a company who finances, designs and manages student housing in Canada.
The deal also includes approximately seven acres of undeveloped land on the north side of the Barrydowne campus, just south of NORCAT. Campus Living Centres is proposing to build new residences on that piece of property, according to Jim Hutton, Cambrian's vice-president finance administration.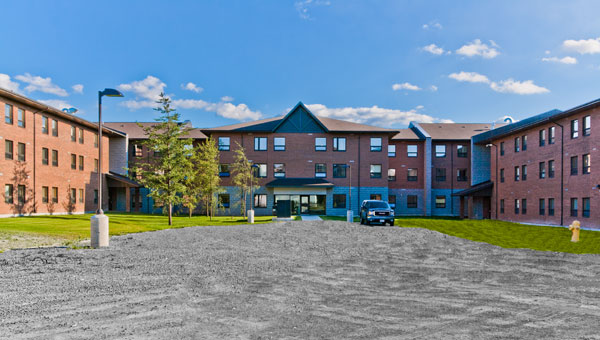 The sale would relieve Cambrian of nearly all of the debt associated with the residences and two-thirds of its $38 million total capital debt load, according to Hutton.
He said this relief will put the College within healthy debt levels as set out by the province. Ontario's revenue to debt ratio is 2.4 dollars owed for every dollar of income, and Cambrian is currently sitting around double that number, Hutton said.
He said the terms of the sale are the first of their kind in Canada.
"We have transferred all of the risk to the other party," Hutton said. "And we have been able not only to take the cash, but we've been able to write that down in our books and get it off the books, and that has never been done before."
He said with the College's student waiting list growing each year, and roughly 17% of students at Cambrian living in residence, coupled with a 3% vacancy rate in Sudbury, according to the vacancy rate tracking site settlement.org, there will be no shortage of students to fill the beds.
However, while Cambrian has not guaranteed the rooms will be filled, Hutton said "we are creating a trust fund that if the occupancy drops below 96 per cent – and it's never happened in history, the lowest its been is 98 per cent – we're setting money aside that the investor could dip into to offset the cost."
He said after 20 years, any monies left in the trust fund will be given back to the College for its own purposes. If left untouched, as Hutton predicts, it would total $3 million.
The proposed residences will house 62 students, said Hutton. This would bring the total number of spots in residence to 739.
While the Campus Living Centres will manage the student housing, Cambrian will be there to ensure living on campus is still an affordable option for students, Hutton said.
"We get no profit from the rent, however we get control over rental rates."
---
by Jacob Touchette
Shield Staff » Read the entire article HERE.